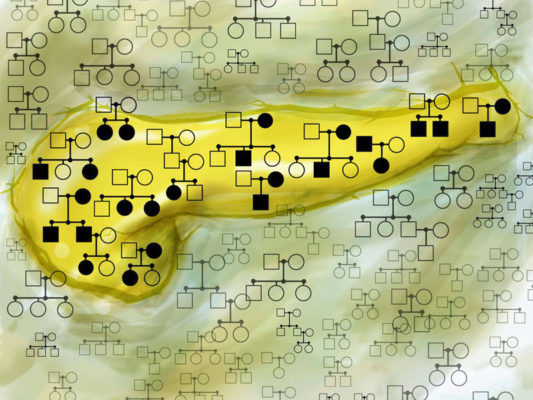 Who Can Participate in Our Study?
You can join the NFPTR if you or a family member has been diagnosed with a pancreatic tumor.
Participation involves the completion of a questionnaire about your health history and that of your family members.
After you complete your questionnaire and join the NFPTR, we input the data into a computer program that creates a family pedigree, much like the one displayed on the right. This pedigree helps us to keep track of the valuable family history information that you've provided to our registry.
As of February 2019, 7,224 families have enrolled in the NFPTR. In 1,936 of these families there is more than one close relative (i.e. parent/child or sibling pair) diagnosed with a pancreatic tumor and are therefore classified as familial. In 5,288 of these families, a single member of the family has been diagnosed with a pancreatic tumor. These families are vital to our research into pancreatic cancer and we are very appreciative for all of their assistance. If your family has been affected by pancreatic cancer, we would welcome your participation in our registry.

"
We are looking for the causes of pancreatic cancer. If you or your family member has had pancreatic cancer, we need you for our study.
Dr. Alison Klein
Director of NFPTR